Tired of Reading? Please listen to the blog
Blog Summary
A PhD in management adds credibility, enhances your expertise and helps you achieve your professional goals. You can pursue an online PhD in Management course at your convenience without leaving your current job, time-saving and is cost-effective. TSL-UCN's online PhD degrees enhance your understanding of the global business environment. They are accredited degrees with global recognition, expert faculty who provide exceptional guidance and support and a strong worldwide peer and alumni network.
---
---
PhD in management sounds incredible. But, how does an online PhD in management make you feel? Many graduates after completing MBA are looking to pursue a PhD in Management program. Online PhD in Management provides you splendid credibility, makes expertise in your field, and helps you to achieve your professional goals.
To some extent, the "online" PhD in management might give you mixed feelings and make you doubtful about its worth. Being worthy depends upon how you want to perceive things. Usually, a perception which people have about the online degree is contrasting. Some even comprehend that you want to add "Dr." in front of your name.
When there is a question regarding credibility, an online PhD in management is credible and good news for busy working professionals who want to pursue a doctoral degree without leaving their jobs. An online doctorate program offers flexibility while following the same rigorous curricula as brick-and-mortar options. Universities, like Taksha Smartlabz in association with the University of Central Nicaragua (TSL-UCN), offer online PhD in management degrees on a par with regular programs.
Advantages of Doing a PhD in Management Online
Convenience
Upon taking up a PhD in management online, you can organize your life around your learning. Unlike a traditional, full-time program that disturbs students' day-to-day life, an online PhD degree will not intersect in your daily routine, where we can complete your course with ease at your convenience. Pursuing a professional degree online not only upgrades your educational qualification but also uplifts your career with ease.
Time-Saving
If you choose a regular program, you may have to commute to your colleges/university, spend substantial time to attend regular classes daily, complete work in a specific time, and leave your job. On the other hand, online learning can be pursued from anywhere and at any time without disturbing your daily schedule or job. You can study or do your research work during your free time.
Cost-Saving
In addition, an online PhD in management is cost-effective and helps you save money in plenty of ways. If you choose an online degree, you do not have to spend on commuting, food, parking, clothing, and so on.
Continued Job
Above all, you can continue your job while pursuing the highest education qualification, PhD in Management online. An online PhD in management degree allows you to earn while learning and learn while earning.
Benefits of PhD After MBA
Another aspect, which is constantly contemplated, is about the benefits of PhD after MBA. Often people who develop a love for a particular subject or who want to pursue their career in the academic field choose PhD after MBA. They certainly have benefits and can gain a lot from this choice.
Everything comes with its pros and cons. Similarly, an online PhD in management comes with its own. Therefore, one should consider their decision to opt for an online PhD in management properly.
If you are one of those who have less time and don't want this degree to cost you a fortune, this can be an excellent choice. But, if you want an accredited degree and expert assistance and guidance, then you should reconsider your option. This way, you won't end up wasting money and do justice to your career.
Is an Online PhD in Management Worthy?
Is an online PhD in management worth the time, cost, and effort spent? This would be a common question that every aspirant has in his or her mind while choosing an online program. However, more number of people started taking their bachelor's, master's, and even PhDs online for its convenience and cost-effectiveness. In this fast-forwarding world, online courses would be a boon for working people.
Indeed, there is a downside in taking up a PhD in management online. Not all online PhD degrees are recognized. So, while choosing the institute, you need to be vigilant. Choose the one that is recognized and affiliated and has a strong alumni base. If the institute is affiliated with a renowned university and provides a certificate, the course will be valid.
Considering all the above-said aspects, you can choose one of the best business schools, like TSL-UCN, to pursue your PhD in management online. Taksha Smartlabz is providing courses in association with the University of Central Nicaragua(TSL-UCN). Besides, they have a strong alumni base from various countries across the globe.
Above all, TSL-UCN's PhD in management is recognized and has a long history of successful batches who have already completed and moved ahead in their career. Here is one alumni who has completed his PhD in management with TSL-UCN and evidencing the excellence this seamless online course: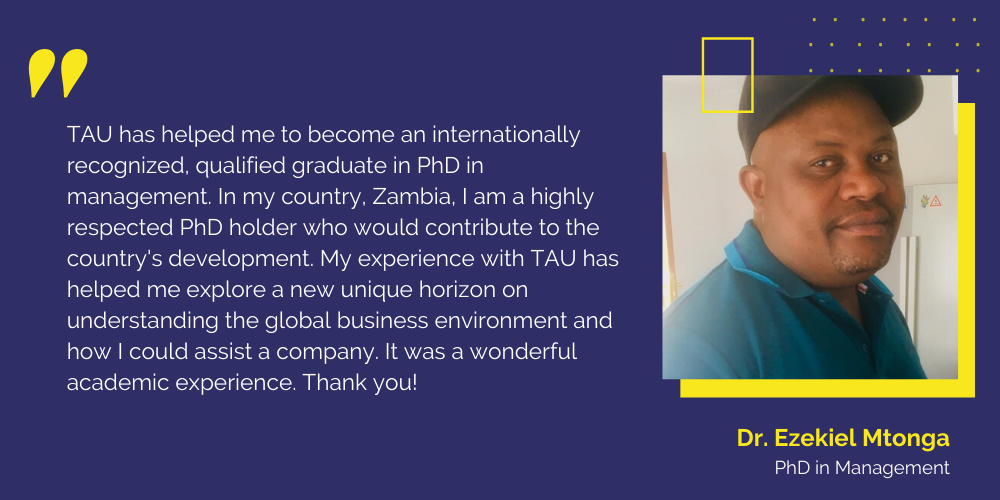 Finally, the aspirants should understand that a PhD in management is a great opportunity to enhance your career with an advanced course. You should make the final decision based on your research and requirements. However, you do not have to panic about the authentication of the degree at T TSL-UCN. It is widely accepted.