Tired of Reading? Please listen to the blog
Blog Summary
Public health helps protect and promote individuals' health and improves living and working standards. The demand for qualified professionals is rising in South Sudan and globally. Earning a relevant degree makes you provide quality service. Sudan is facing issues with child mortality, access to clean drinking water, sanitation, displacement of millions, the influx of immigrants, etc. Public health degree enhances your skillsets to make a positive impact and far-reaching influence in society, opportunities in varied areas and offers job security and better pay. TSL-UCNs online public health program adopts an international standard curriculum, advanced LMS, patented block-based learning, highly qualified mentors and access to a central repository of learning resources.
---
---
Public health is one of the core elements of any modern society. It is the frontline of defense against diseases, pandemics, and factors that influence life quality. Public health protects and promotes people's health and enhances the communities' living standards, play, learning, and work. Demand for such professionals is high in South Sudan and across the globe. Besides, professionals are also expected to have a public health degree to work in this field as the sector demands quality service.
If you have ever wondered, "Is it good to study a public health degree in South Sudan?" The short answer is, Yes, you should strongly consider enrolling for a public health degree. For the long answer, keep reading on as we explain why pursuing a career in public health in South Sudan is one of the best choices you can make for your society and yourself.
Health Challenges in South Sudan
South Sudan, a country of 11,062,113 inhabitants, suffers from the lack of health services, left of which is also significantly constrained due to the focus primarily on ad-hoc services intermittently accessed by communities with more women and children worst affected.
The country has one of the highest maternal mortality rates among many developing countries. As per UNICEF reports, figures indicate 789 deaths per 100,000 live births, the mortality rate for children under five are also very high of 96 per 1000 live births, and over 65 percent befalling soon after birth or the first year of life.
The country also has a tough time figuring out access to clean water and proper sanitation procedures for the masses, which has resulted in the spread of contagious diseases like Malaria, Leishmaniasis, Schistosomiasis. Non-communicable diseases, such as cancer, cardiovascular diseases, diabetes, etc. are also a significant issue in the country as more cases are recorded consistently every year.
It might surprise many as most of these deaths are preventable with some effort put into proper planning and action. Though the South Sudanese government has a well thought out public health and health policy, it lacks the required professionals to carry out the tasks.
South Sudan Turns a New Leaf
Sudan has been subjected to conflict and a great deal of chaos in the last decade, millions are misplaced, and the influx of immigrants from surrounding countries has only made the situation worse. This situation is incredibly taxing to public health officials who are already working with limited resources and personnel.
However, Sudan's recent Army-Civilian power-sharing agreement has the potential to create an opportunity for a more pluralistic and representative government form to take root, signaling a brighter future for everyone. This shift will create more opportunities for medical development, which will be the first order of business; this, in turn, will foster more opportunities with improved goals and conditions.
Better management will be one of the primary goals for the state's medical sector. Qualified graduates in the industry would allow Public health graduates to shape the approach to benefit the people now better than ever before.
State of Public Health in South Sudan
As per a research article in the Lancet, only 43% of the health facilities can access essential medicine while 33% of the health facilities can provide all the leading primary care components. Qualified personnel are lacking in the state, and the few who do button up every day for their duties have to cope with rising demands and have to be on their toes all day.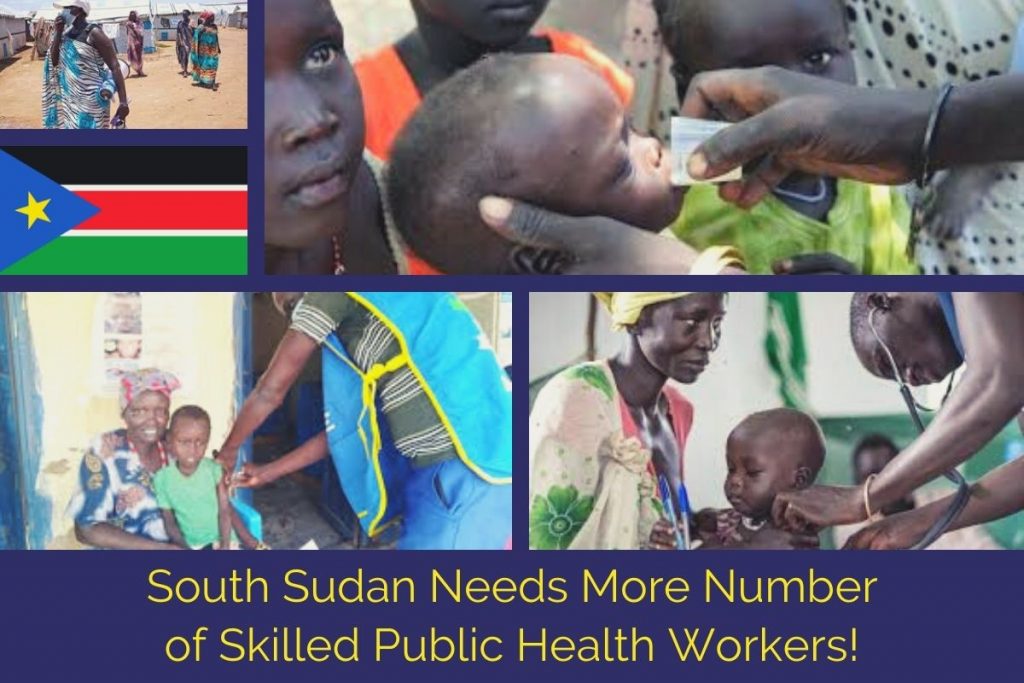 Many medical personnel participants who partook in a research survey reported that reducing access barriers and a more extensive and better-qualified workforce could significantly improve their situation.
Public health officials, graduates can radically transform the public health sector with innovative and practical ideas, which can significantly impact these situations and help medical professionals of all disciplines do their job better and effectively.
Is it Good to Study Public Health degree in South Sudan?
As we previously mentioned, studying public health is a good choice, but if you are still wondering why let us explain further.
Public health is one of the most extensive fields of study that modern education has to offer. There is something for everyone! It ranges from the humble yet essential community health worker to an epidemiologist and even a public health minister. Though there are many reasons one opts for the career, here are some of the most influential ones which might nudge you to take up a public health degree.
Professional Impact
Many professionals complain that their work is often monotonous and daunting. However, a public health career has some of the most profound impacts on society at large. No matter which role you pick, your professional implications will be much more direct and meaningful.
As a public health degree holder, you will be in demand in South Sudan and around the world as qualified public health degree graduates are in need all over the world.
Public health professionals can make a global presence by guiding public policy on bringing better awareness and international programs with the support of organizations to improve health in developing nations and prevent disease outbreaks.
Many public health graduates focus on gathering concrete research and data to determine trends and develop accurate statistics to better identify and treat medical problems. They also develop plans to tackle a specific problem limited to a particular geographical area and make changes in accordance with government authorities and NGOs that would lead to a positive outcome. Their professional impact on society is vastly underrated.
Job Security
As we can see from the various reports from earlier, public health workers' needs are expected to grow exponentially for the foreseeable future. With most public health degree graduates finding job prospects immediately after college, public health professionals' unemployment rate remains low. Rising more awareness about public health programs' benefits, these workers will be in even higher demand.
This growth rate is highly valuable in the south Sudanese job market. There aren't many jobs that can come close, let alone match the demand that the public health sector's carers provide to public health degree holders.
Professional Variety
As mentioned earlier, professional variety is one of the main reasons many opt for a bachelor of public health program. The sheer variety of professions and their upward mobility that one can take up through their professional career are astounding to any public health degree graduate.
One can choose to do anything from being a research scientist analyzing various statistics and helping the medical community see the finer details to a policymaker changing the landscape of the society and everything in between. Along with multiple job choices on offer, public health workers can choose to work in schools, government, or private companies. International and local organizations require public health workers as well. There are many avenues to pursue.
Influence your Nation
Remember, when we mentioned Public health is one of the core elements of any modern society? That's not just a statement as healthier people make smarter choices which advertently improve life for everyone. Be it research or policy or simply better awareness; your work will impact people from every corner of the nation.
Your work's influence is far-reaching into society that it has the potential to determine the fate of millions in the future. As they say, with great power comes greater responsibility.
Better pay
As one can guess, many careers in the public health sector also offer better pay than most other professions across the spectrum and not to mention the perks and benefits if one chooses to work in the public sector. It's not just a better paying profession but also a noble one as you will be intimately attached to every patient you can help in various ways.
It can also only go upwards as you progress throughout your career with better experience and skill set you will develop and bring to a new role you will inadvertently move up.
Best Option to Pursue an Online Bachelor of Public Health Degree
In partnership with the University of Central Nicaragua, Taksha Smartlabz (TSL) offers its online BPH degree program. It is a well-structured program with an international standard curriculum aimed to help students gain proficiency to become a public health professional. The online BPH degree program is crafted analytically to help students complete the public health degree with ease.
TSL-UCN's online BPH degree program is an acclaimed one and is on par with our regular on-campus bachelor of public health program. The online BPH degree program blends flexibility with hands-on training experiences to help students become highly public health professionals.
What Do You Gain from This Online Bachelor of Public Health Course?
Unlike a traditional public health degree or other college BPH degree programs, TSL-UCN offers a unique opportunity to our students, such as:
A genuinely multicultural international network of peers;
State of the art learning management system which provides a patented block-based learning experience;
A comprehensive repository of research and study materials available online;
Highly qualified student mentors who will assist you every step along the way; and
An internationally recognized degree trained and evaluated with the latest curriculum.
Teaching Methodology at TSL-UCN
Delivered through a uniquely designed learning methodology, TSL-UCN's online BBRRIICCSS model is designed exclusively for students who prefer distance and online learning programs (DBLP). This learning model segments the learning of the subjects in sizable blocks to help students focus their attention effectively.
Each of the blocks lasts around two months or eight weeks, where students focus on one subject at a time. This methodology is followed for all of TSL-UCN's DBLP programs to help students learn the subjects online as effectively and efficiently as possible.
Eligibility and Course Duration
To be eligible for the online bachelor of public health degree, aspirants have to meet either of the following qualification criteria;
A-Level + 2-/3-Year or higher Diploma in the Relevant Field
A Higher National Diploma in Public Health from a recognized university
The duration of the program is two years upon enrollment.
Career Prospects of Bachelor of Public Health
TSL-UCN's online public health degree will help you explore career opportunities, including but not limited to:
Epidemiologist
Public Health Analyst
Environmental Health Volunteer
Community Health Worker
Health Education and Promotion
Public Health Manager
On that note, we hope that we have answered whether it is good to study public health degree in South Sudan? and hopefully inspired you into enrolling in a public health degree to make your mark on this underrated profession. Good luck!